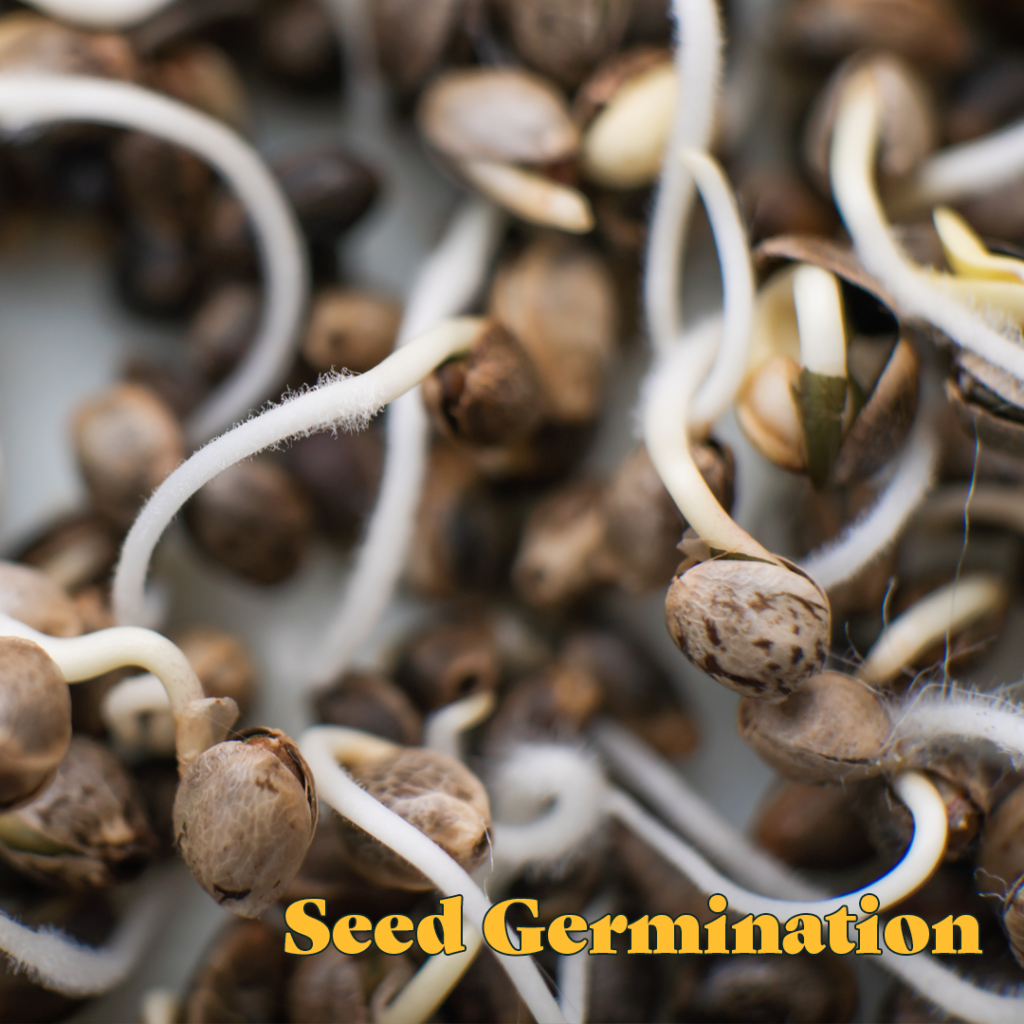 What is germination?
Germination is the development of a plant from a seed.
Imbibing
Imbibing is the process whereby the seed soaks up the water, eventually resulting in the seed coat splitting.
Choose Your Germination Techniques:
Towel propagation: seeds can be germinated in cloth; cheesecloth is most common but even paper towel will do.
Size – depends on how many seeds you want to germinate
Keep the cloth damp! Never let it dry out!
Check Daily for new Growth
Avoid breaking the root (radicle)
Once root is 3x the length of the seed, it should be transplanted to grow medium soon!
Soil Propagation: seeds are placed in soil about 3mm from the surface (about the length of the cannabis seed).
The soil is kept moist (not soaking wet).
There are many soils advertised as "germination soils" seedlings tend to need a fertilizer that high in phosphorous, phosphorous stimulates root development and is a component of photosynthesis. Look for a 1-2-1 NPK ratio (nitrogen-phosphorous-potassium).
Rockwool propagation: cubes and kits
You will need to spend about 50$ on a propagation kit = rockwool cubes / tray, clone dome.
On the bottom of the tray there's a small area where water or germination hormones can be poured.
Place small rockwool cubes (1.5inch) into slots in the tray which automatically dips the rockwool cubes into the solution.
Place seeds into tiny holes in the rockwool cubes (the holes covered with rockwool particles to prevent direct exposure to the outside environment.
Place cloning dome over top with slots you can open to allow air exchange.
Tips:
-Even seeds in water can germinate although transplanting in cubes or soil is easier.
-Seedlings will automatically lift the shell (coat) out from the medium
Cotyledons open, forcing the shell away
-Shell is shed and cotyledons are open to receive light.
Do not use high doses of fertilizers with seedlings, low ratio of germination fertilizer is needed as incorrect mixture can burn your seedlings causing them to fail.
Keep your germination area warm, a cold room can inhibit germination rates.
Do not disturb the soil of your seedling, you may want to check progress but be patient shifting of the seedling can cause damage to young roots.
Weak stem? – stick support. Tie the stem to the stick using a piece of thread, never tie the thread above a growing shoot or the seedling will push up against the thread possibly damaging itself, outdoors the wind will help shake the stem causing it to develop stronger. Give a gentle shake or indoor fans work too.