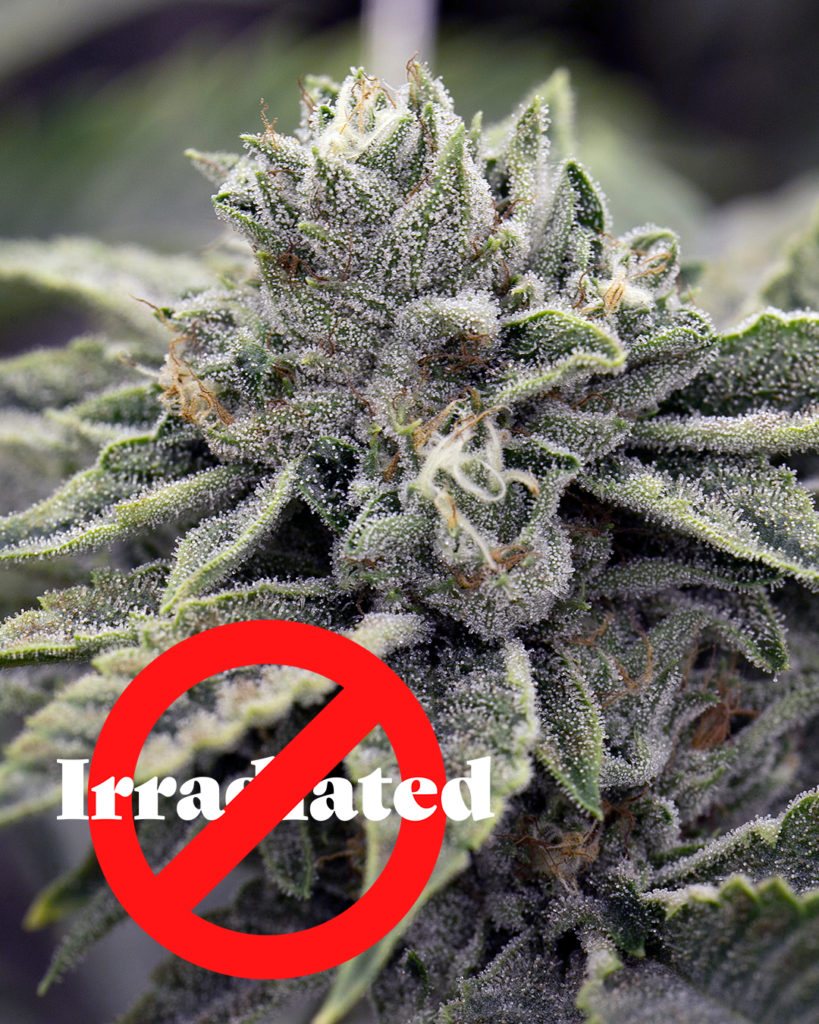 If you find yourself asking, "what is Cannabis Irradiation?" don't worry, you are not alone. You likely won't find an LP advertising that their products are irradiated. However, we at Maricann believe that everyone who buys cannabis in Canada should understand what this procedure is, and its uses and drawbacks. To understand how the irradiation of cannabis works, let's first clarify what irradiation is. Irradiation is the process of exposing an object to radioactive rays, the type and dosage of which vary based on the intended purpose of the exposure. These radioactive rays (typically gamma rays) pass through the object, purifying it of any contaminants. It's a process that is used quite commonly in our world, from sterilizing medical equipment to destroying the cells of biological contaminants in our food. Most produce, spices and even ground beef in Canada has been irradiated before it hits the shelves in grocery stores.
It's use in the cannabis industry is to expose flower that fails to meet Health Canada's standard for microbial contamination to gamma radiation, killing any bacteria and mold allowing the product to be sold. 
Is Cannabis irradiation harmful to cannabis?
Though studies have shown that the irradiation process does not have an impact on the plant's cannabinoid content or moisture levels, it does have a negative affect on the terpene content. This will cause the plant to lose some of its taste, smell, and its unique effects due to the link between terpenes and the high of a strain as part of the entourage effect. The degree of terpene degradation is anecdotally compared to leaving your cannabis in an unsealed container for several hours.  Have you ever purchased cannabis and upon opening the bag it has no smell or worse smells like hay? Chances are it has been irradiated.
Is it harmful to humans?
The unit of measurement for calculating the rays absorbed by a product is called Gray4. Products irradiated with a dose of 45 kilos of Grey4 or less will not experience modification to their chemical composition. Cannabis irradiation receives about a quarter of this dose, which is approximately 10 kilos of grey4.
The exposure time of the rays are not elevated long enough to make a direct impact on humans in any way. No matter the quantity of cannabis consumed irradiation is not a danger to your health. While it may lead to a smoking experience lacking in tasty terpenes, it is not a process which you need to worry about causing any illnesses.
Keeping it Transparent
At Maricann we do not believe in cannabis irradiation. We are always striving to improve and master our cultivation techniques to render irradiation irrelevant. We want to show consumers that we don't need to rely on the failsafe band aid fix of irradiation. The best course of action will always be prevention, which is why  we take every measure possible to ensure our plants are free of microbial contamination. This allows us to provide flower in its best and most natural state, free from terpene degradation.